Are you feel boring while doing work in word press? Will you want something new, which is better than WordPress? Then my dear friend Wix is the best platform for you. This platform is very user friendly. You will feel satisfied while working on this.
In this Wix review, you will know details about the platform including its features, functionalities, pricing, and more. After knowing you can work smoothly on this platform.
What is Wix?
Wix is a cloud-based service that allows you to design and build your own website in a unique way without knowing any kind of code. You don't need to buy any web hosting or installing software anywhere, you need to build and run your site is provided 'out of the box', and happens online. You need to manage your web browser means the Wix website.
In the Wix website, you will get many features such as you can create a beautiful blog, eCommerce store, business website, online portfolio, photography site, or any other website. This website is so user friendly that you can customize anything and everything on your site and build the design according to your wish. If you want an even easier option, you can use Wix Artificial Design Intelligence (ADI) which builds a personalized website for you based on your answers to a few simple questions. For advanced users, there's also the Wix Code option.
Wix is a fully-hosted platform that includes hosting and domain services for you. In addition, it'll handle your website security, and provides you with easy tools for search engine optimization (SEO). In other words, it's a full package website building service, which is great for beginners.
Wix.com was founded in 2006 with the goal to empower anyone to create their own website. It now has over 110 million users across 190 countries. It's currently one of the most widely-used website builders and utilizes the second most-used cloud-based website builder technology.
Process to Create Account in Wix
You will start working with Wix. Before that you need to create an account in the Wix. To create an account you need to follow some steps. The steps are:
First, visit the official website and click the options Get Started.
In the next screen, you'll see the login or Sign Up options. though you are new, so you need to do the sign up in this account.
They will want your email id and you need to generate new password.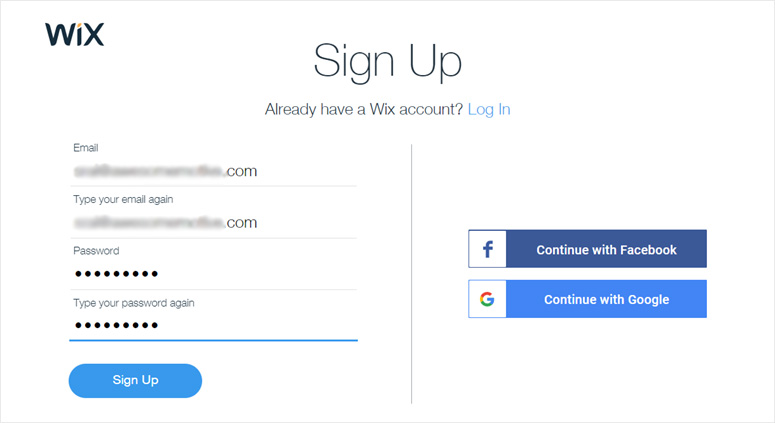 After entering all the details click the Sign Up button.
On the next screen, you'll see some questions if you want you can answer them, otherwise, skip those questions.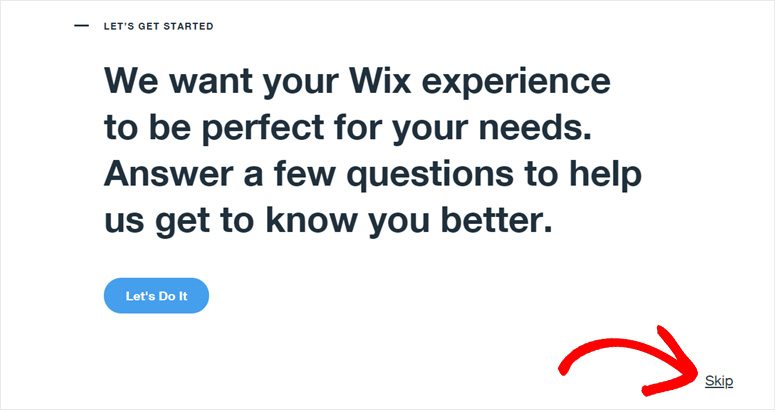 After that two option will arise Wix Artificial Design Intelligence (ADI) and Wix Drag and Drop Editor.
You need to select according your preference.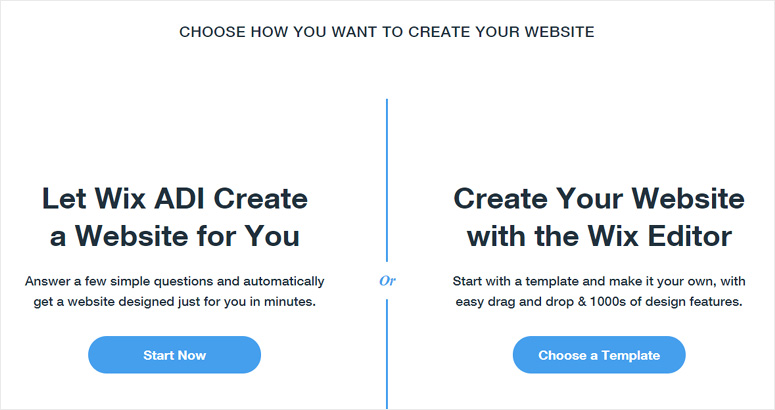 If you choose Wix ADI, then you'll be asked a few simple questions, and on the basis of your answers, Wix'll automatically build a personalized site for you, but if you select Wix Editor then you need to choose a template and according to your style your wish you need to customize it with drag and drop builder. When you will start using these you will find that Wix ADI is easier than the other one.
Now start working on Wix ADI.
To start working first, click on Start Now.
Then you'll see the first question: What type of site do you want to create?.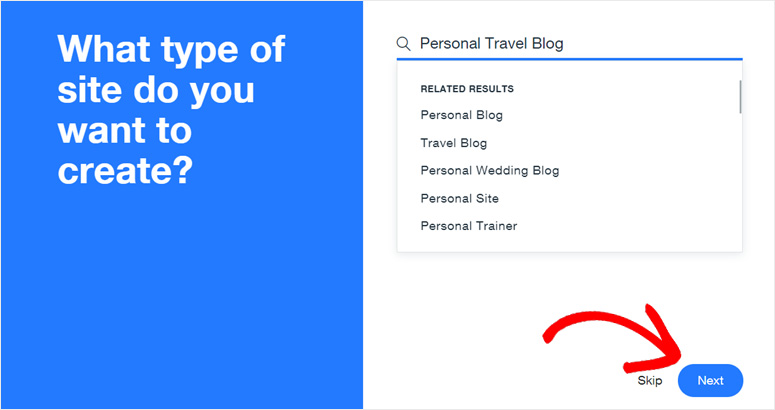 First, enter your business name or website type, then choose a suitable option.
Then click the Next option.
After that you can see all the feature, you can check your desire ones.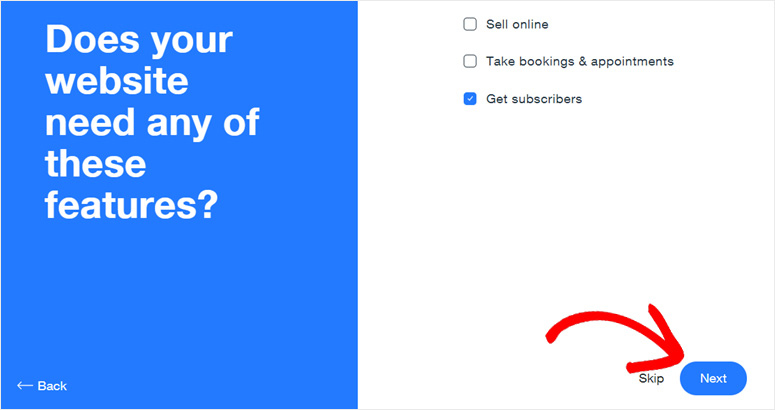 When your selection will be done click on the Next option.
After that on the next screen, you'll be asked to insert the name of your website. Choose the name you'd like to have and enter it there.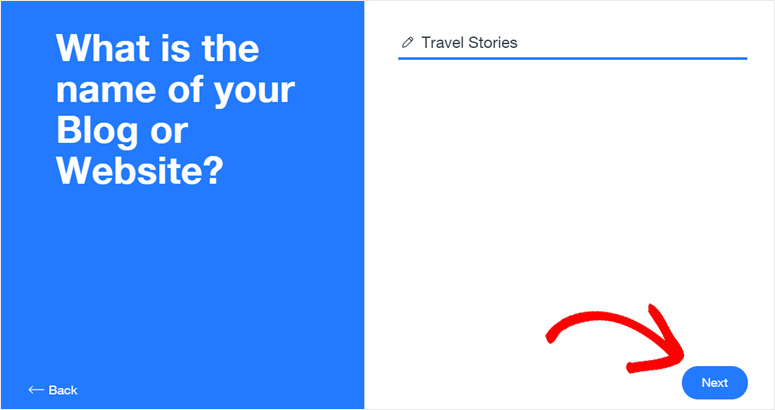 When you will fill your website name, click Next.
Then, you need to give the physical location though it is not necessary.
After that, see the Review and edit your info page.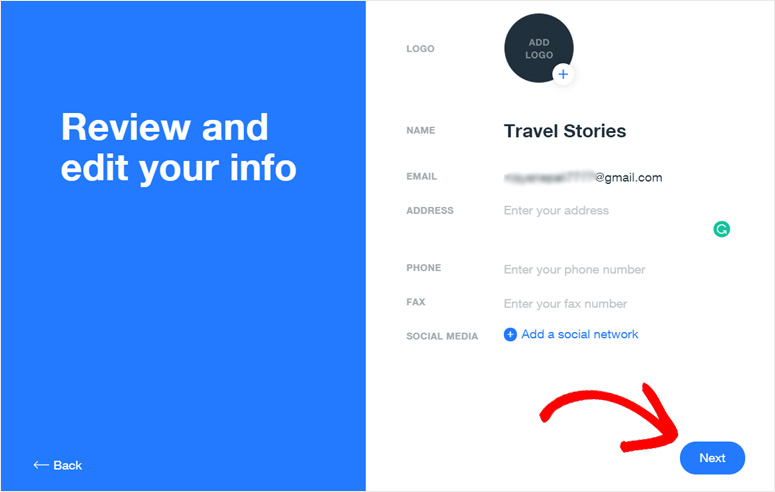 You can also add a new logo for your site, change your website name, email address, add contact details, and social media.
Then, click Next.
On the next screen, you'll be asked to choose a style.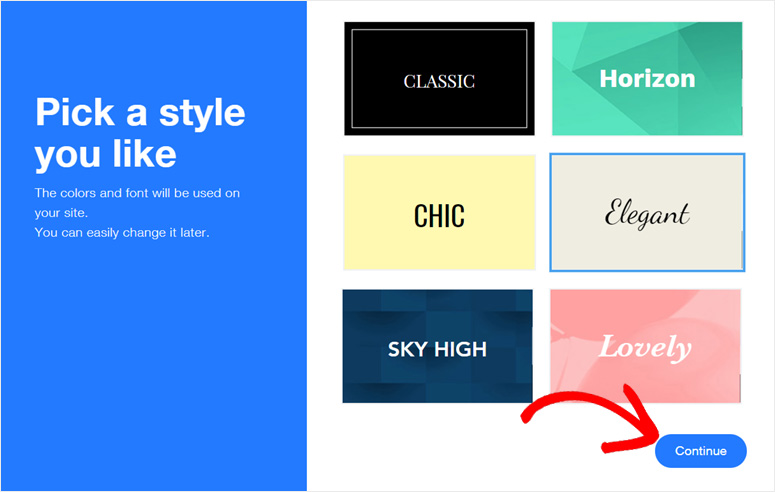 You'll need to choose the colors and fonts you want to use via a Style. For this example, we'll pick Elegant. After you make your selection, click Continue.
Then, you'll be asked if you want to create a color palette from your logo in the next step. You can click Create Palette.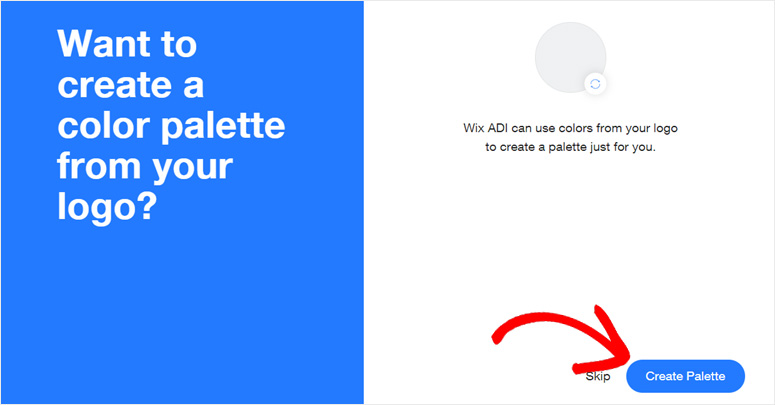 Now it'll create a unique color palette for your website.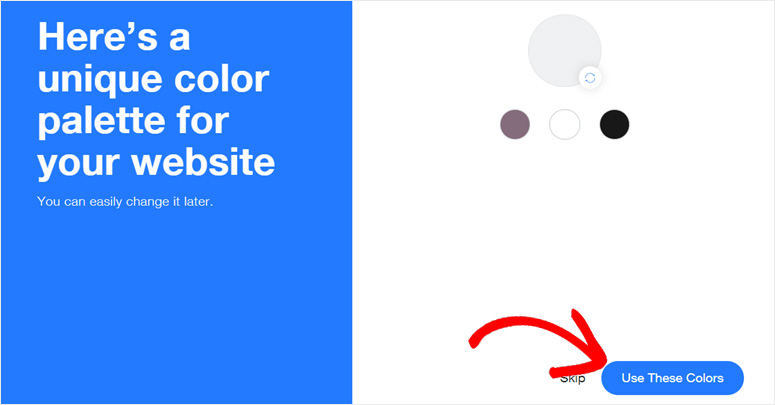 You can click Use These Colors to proceed. Then, Wix ADI starts creating your website. It automatically adds the features you'll need.

It will add in a blog section, contact section, chat features, and other useful elements.
It also makes your site mobile-responsive.
After the automatic site-making process is completed, you'll be asked to choose a homepage design.
You can also design the homepage as you wish.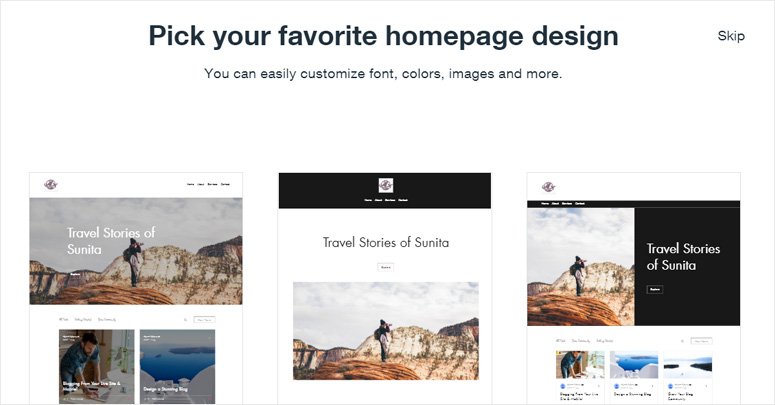 You can choose the design you like the most by clicking it. Next, you'll a preview of what your finished website could look like. However, you'll be given edit options for each section or each element if you mouse hover on them. So if the preview isn't perfection, feel free to make changes before publishing.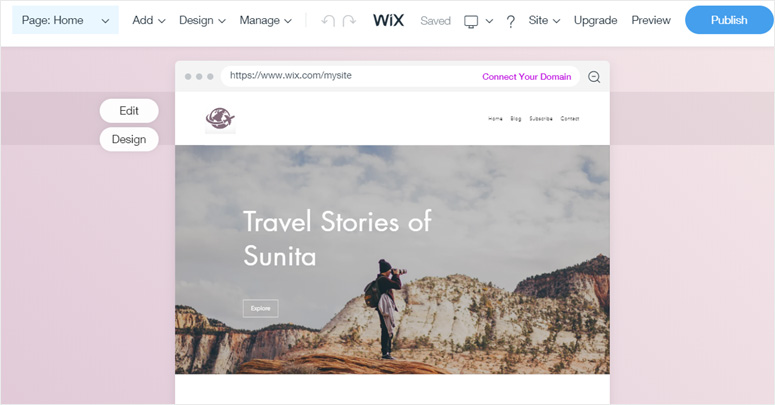 If you want to edit anything, like changing the title, adding a description, or changing the header image, you can simply click on the item you want to change. Then, it'll show an editing panel on the left side and live preview to the right.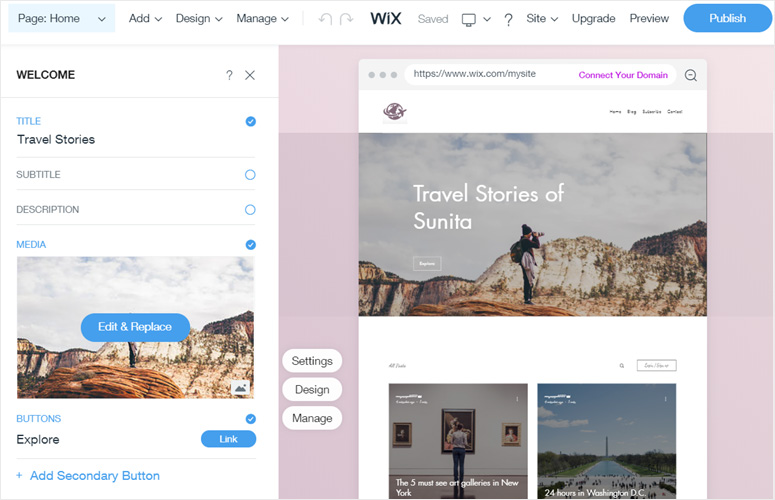 Now, you can live preview every change you make on the editor. You can edit anything you want. When you're happy with the design, you can click the Publish button at the top.

In the next screen, you'll be able to choose a domain name. It has 2 options: use a free Wix subdomain or connect your custom domain.
For beginners, Wix provides a free Wix subdomain option with which allows you to have a Wix website completely free. Your Wix subdomain will have a format like this: https://username.wixsite.com/sitename.
For example, you can see in the screenshot below.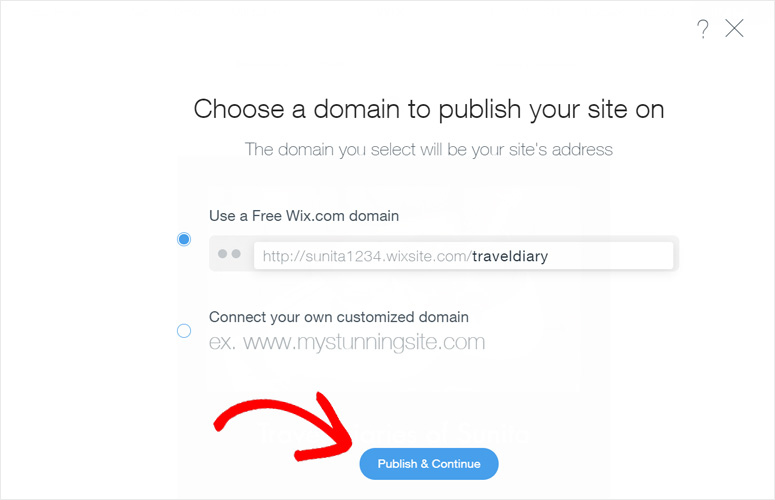 If you want to use a custom domain name like mystunningwebsite.com, or isitwp.com, you'll need to subscribe to a Wix premium plan.
After you add your website name, click Publish and Continue.
Now your free Wix website will be online.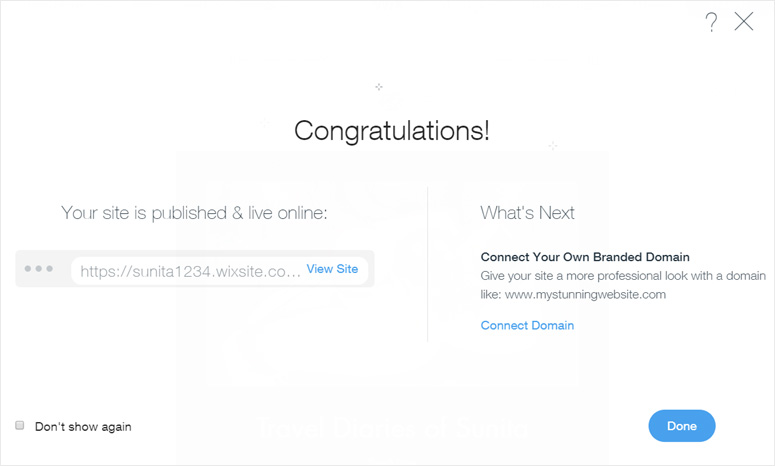 In this way you can create account on Wix. After this start your work.
Wix Features
When you will start exploring wix you will get many features. you need to think when and how you will use those features.
In this part you will get over 500 designer-made templates. From here you need to select according your templates.
Business
Online store
Travel and tourism
Blogs and forums
Landing pages
Fashion and beauty
Events
From any device you can access your account on Wix. Your website will automatically look amazing on any device.
Express more than words with over 100 fonts or upload your own. Select your own style and explore it.
Design your site exactly the way you want with innovative drag and drop.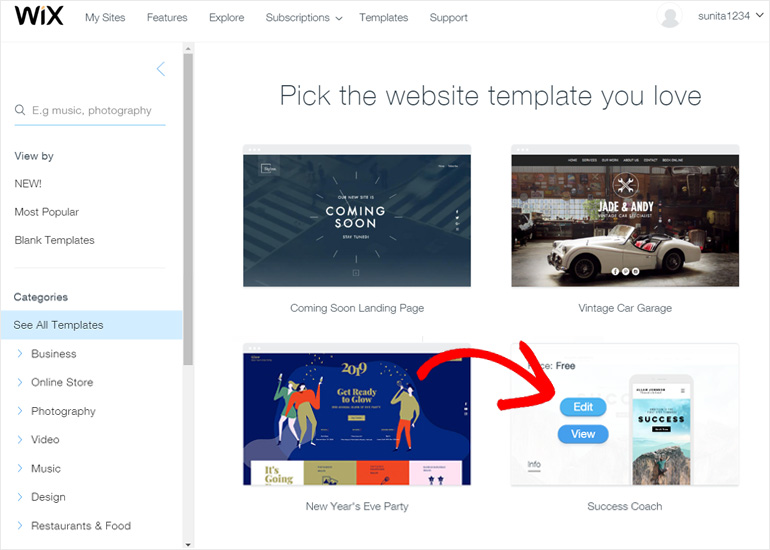 This feature is a very useful feature with the help of these features you can easily drag your content. If you want to use any kind of features then also you can use it. According to your wish, you can move it.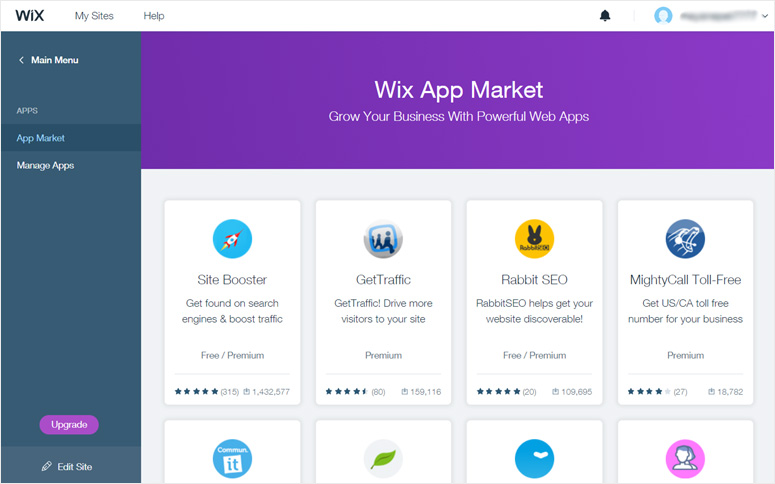 App is the easy way to open your Wix account anywhere and everywhere. If you install any app in the phone or in the laptop or tab it takes small space, but you can access it anywhere in the world. Manage your website and grow your business with powerful web apps. In this way business growth increase steadily.
Scroll Effects
When you will add dimension to your site with parallax, reveal, zoom-in or fade-in scrolling, then your content of the account will be perfect and symmetric. If your image and contents font will be same then it will look good. Those who see your account and want to read then will feel amaze. Viewers eyes will get relieved. Also your account will get frame.
To grow a business properly you need to do the proper SEO or search engine optimization. Otherwise you cannot get the best rank in your website. Follow your own personalized SEO plan to get your website found on Google.
Advanced Design Features
Always select that kind of website which have advanced design features. Bring your site to life with animation, video backgrounds and scroll effects.
Media Galleries
Display your unique images, unique videos and text in a beautiful gallery layout to make your content beautiful and vey stylist unique.
Advanced Code
Only in the Wix, you will get the advanced code to make your content more beautiful and more attractive. Wix ADI and Wix Editor, Wix has yet another option for creating a free website: Wix Code. This option was specifically designed for professional web developers who have good coding skills, without this coding knowledge professional websites cannot be created. Though it is a free website anyone can access it but still, experts can handle it.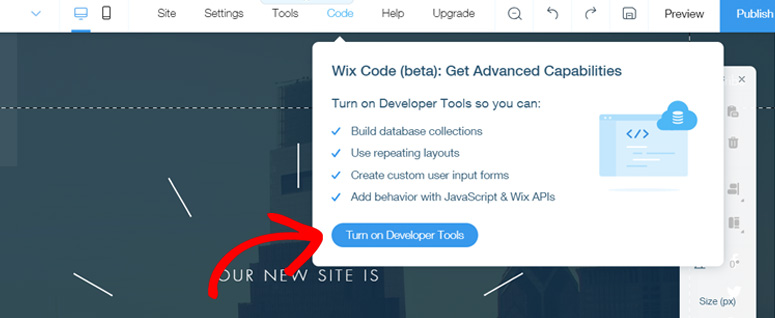 Wix Marketing Tools
This tool is a very effective and important tool. Though you are working on Wix then you will want to market it very carefully. For this, you will get a marketing tool available in the Wix. You need to know how to work with this tool. This website is very much user-friendly , so this website itself will help you step by step. See the below picture you will understand.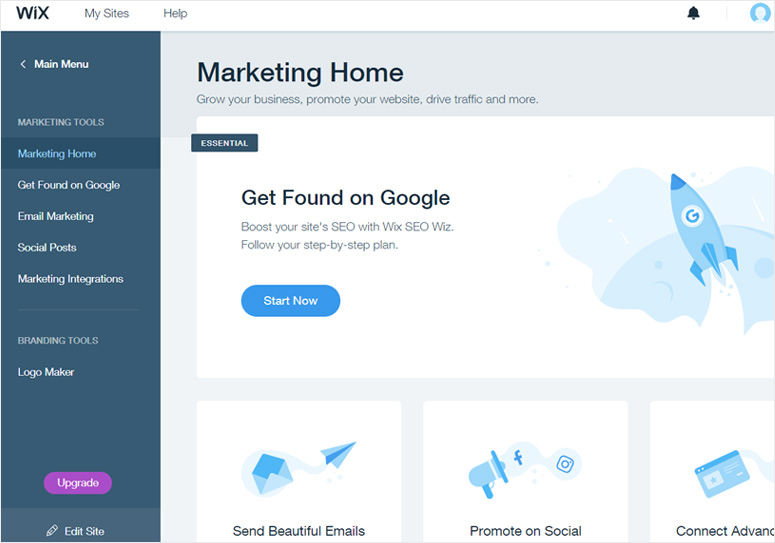 Professional Features
In the Wix you will get also professional features. Those are:
Custom Domain Name
If you are premium member then you can access this professional features. With this option you can create your own domain while giving your name. Look professional with a custom domain or connect one you already own.
Analytics
In this option you can track your site's performance and stats. See how well your website is doing. This report is very important for your business then only you can understand whether your business is growing or not.
Wix Chat
With this options your visitors can do the live chat when they need.
Professional Mailbox
Get a personalized email that matches your website domain and brand.
Contact Management
Manage your contacts and collect subscribers in one organized place.
Social Tools
Connect all your social accounts in one place with customizable icons.
Free Hosting
We take care of web hosting to make sure your site is safe and secure.
Member Login
Create password protected pages that only your members can access.
SSL Certified
Secure your website and boost your SEO with an SSL Certified site.
Pricining
In Wix for different option you will get different price. The price are so reasonable. If you start business with the Wix then you will crack the great deal. To explore all the pricing you will be the premium user.
There're 5 pricing plans for premium users: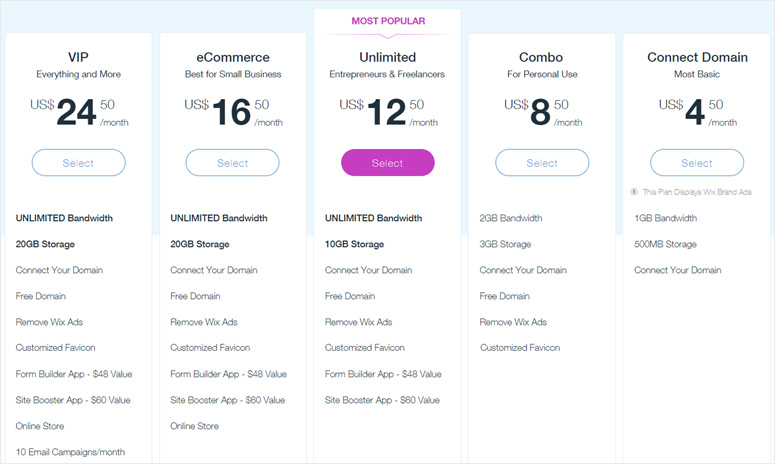 Connect Domain: This domain connect the client and server. The price of this domain is very reasonable, costs $4.50 per month. With this plan, you can connect a custom domain; however, you'll need to register the domain on your own first and later connect it with your Wix site.
2. Combo: It costs $8.50 per month. With this plan, and all the plans above it, you'll get a free domain from Wix. However, if you've got a domain already registered, you'll have the option to connect to it.
3. Unlimited: This plan offers unlimited bandwidth, free domain or connect domain, remove Wix ads, customized favicon, etc. It costs $12.50 per month.
4. eCommerce: This plan was especially designed for eCommerce sites. It has all the features in the Unlimited Plan plus additional online store features. It costs $16.50 per month.
5. VIP: It's the most advanced Wix premium plan. It costs $24 per month. It has all the features in the eCommerce plan plus an additional email campaigns option and priority support.
Comparison Between Wix and WordPress
Wix is actually one of the easiest website builders to build a website with. In Wix you don't have to install any software and you edit everything in your browser. Their editor is completely drag and drop, and super intuitive, especially for complete beginners. If you want to add more functionalities, you also have their App Market that lets you add features in one click. In WordPress you will not get all this optional. Working in WordPress is might be tougher.
WordPress is also known for its extensions and plugins, but they're not always that easy to install or implement. Similarly, the whole software requires a tiny bit of technical knowledge. And when things go wrong (not if), finding the fix can also become a bit of an issue. WordPress is doing its best to move into a more user-friendly direction with the Gutenberg update that added a building block editor. But it's still far away from being as easy as Wix.
To start a Wix site with a custom domain name, you'll need to buy their Combo plan (at least) or get a new domain and connect with their Connect Domain plan that costs $8.50 and $4.50 per month respectively. Whereas you can start a WordPress website for just $2.75 per month with Bluehost.
FREQUENTLY ASKED QUESTIONS
Is Wix really free?
Ans. Wix is available for free for as long as you want. If you need professional features like your own domain name or ecommerce, you must choose from one of their premium plans ranging from "Combo" to "Business VIP". The cheapest ad-free plan with a custom domain name costs $14 per month.
2. Does Wix own my domain name?
Ans. You can purchase your own domain name directly from Wix. When purchasing a domain from Wix, the domain is automatically connected to the Wix servers. You can also transfer your domain to Wix to manage everything domain-related within your Wix account. .
3. Is Wix bad for SEO?
Ans. Wix is excellent for core SEO, but it isn't great for the fancier stuff. The margins can be pretty fine when it comes to search results, and Wix doesn't excel beyond the basics.
4. How long does it take to learn Wix?
Ans. It is depend upon the person who are learning and the learning nature. Building a website can take anywhere from 2 hours on a website builder like Wix or Squarespace. if it's a super simple informational site to 2 years when it's a complicated E-commerce site with numerous levels of categorization.
5. Can you make Wix site private?
Ans. You cannot make the whole site private but you can purchase if you are premium member. The relevant page and click the Show More icon . Click Settings. Click the Permissions tab. Select Members Only.
CONCLUSION
If you want to create you own account your own domain to grow your business properly then learn Wix fast. In Wix you will get many features which will create your account most beautiful and attractive. In this article you will get details about Wix. Learn fast and start working on it.
Wix Review 2020 – To Create Best Website